Welcome to the RAF North Creake Memorial Website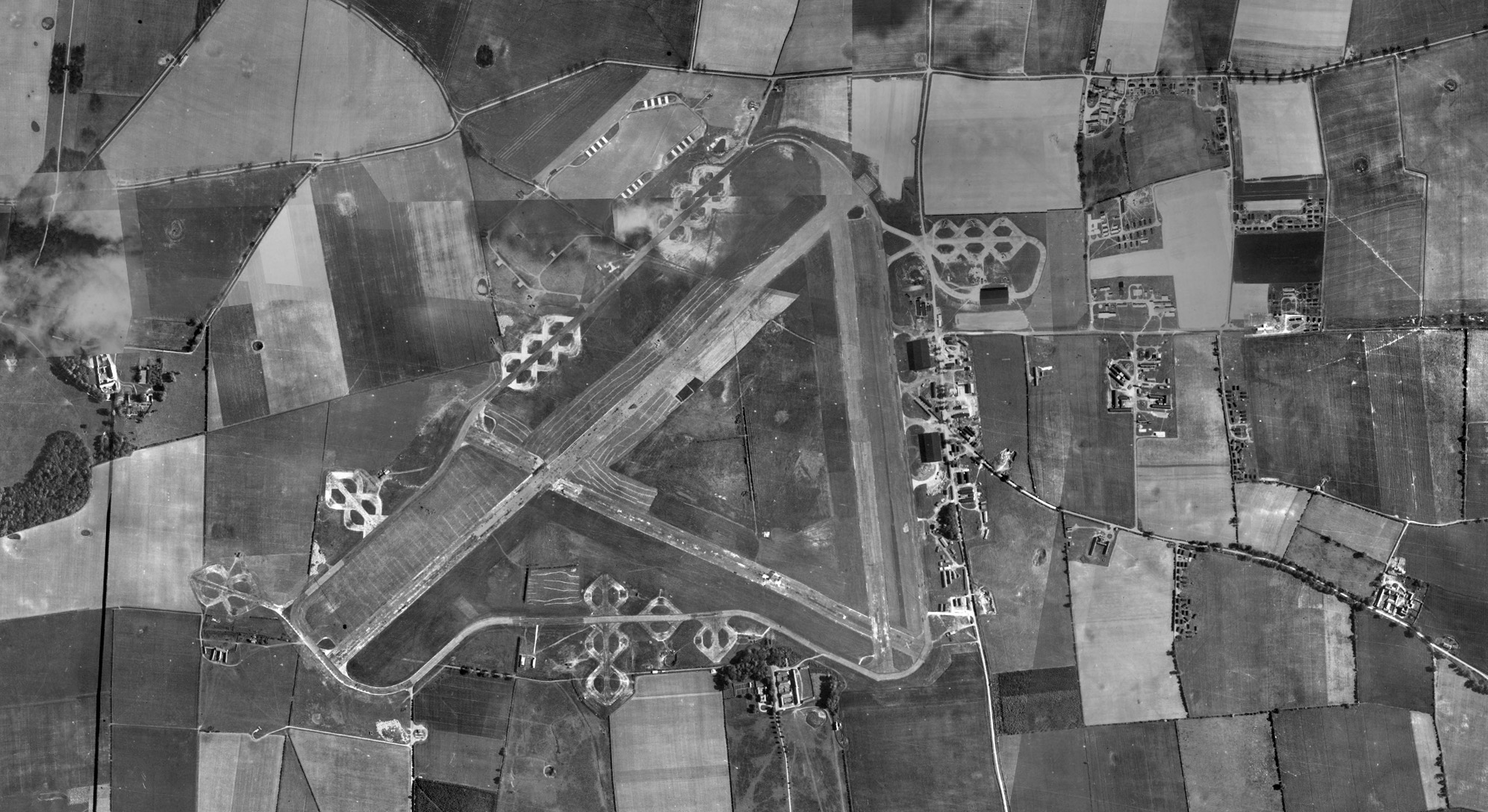 1946 images copyright Norfolk County Council – 2019 images copyright Google
Use the slider to compare the aerial view of RAF North Creake in 1946 to how the area looks today.
RAF North Creake veteran Bernie How – Flight Engineer 199 Squadron at the memorial dedication ceremony Pic: Steve Adams/The Control Tower B&B – read more here
Tucked away in a quiet corner of North Norfolk are the remains of a secret WWII bomber base. When you pass through the area today you would be forgiven for thinking the large hangars and nissen huts are old agricultural buildings, but these structures hold a fascinating history which is mostly forgotten.
With the desire to change that, Nigel Morter and Claire Nugent, who became hooked on the history of the airfield when they bought the Control Tower  in 2011 converting into a period style Art Deco Bed and Breakfast set a course for fundraising and erecting a fitting memorial that celebrates those who served and commemorate those who were lost.
On Saturday 5th of June 2021 a dedication ceremony was held at the (very nearly) completed memorial site that involves a Roll of Honour recording the 73 members of aircrew who lost their lives while serving here and a sculpture of a Stirling bomber by Andy Knighton Sculptures and dedicated to all who served at RAF North Creake.  Blessed by the Revd Dr Harri Williams, with a dedication by Air Marshall (retd) Sir Stuart Atha KBE CB DSO the Act of Remembrance was supported by an audience of 30 guests due to covid restrictions.  They also witnessed Bernie How, a veteran of RAF North Creake who served as aircrew in the role of Flight Engineer (1944-45) cut the ribbon on the Roll of Honour.
There are three information boards still to be erected and a little landscaping to be done, but other than that the memorial is complete and is there to be visited.  Accessible from Edgar Road, NR22 6BD.
The journey does not stop there, as we are planning more access to parts of the airfield.  If you would like to know more, please contact us through the contact page or keep an eye on this website.
Memorial Dedication 5th June 2021 – the 77th anniversary of D-Day, the first operation from RAF North Creake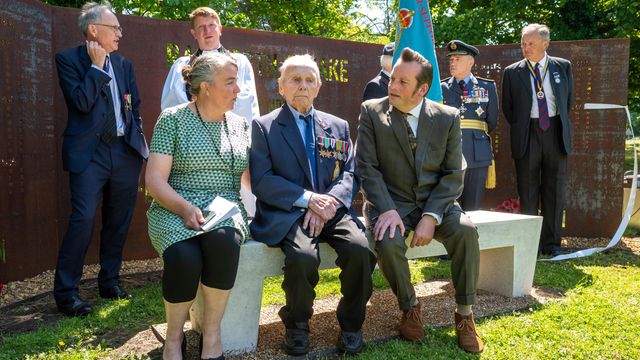 The Control Tower's Claire Nugent and Nigel Morter sitting with veteran Bernie How in front of the Roll of Honour at the RAF North Creake memorial. 
Back Row (left to right): Clovis Meath Baker CMG OBE, Walsingham Estate; The Revd Dr Harri Williams, Vicar of the Walsingham Benefice; Peter Sluman, Standard Bearer for RAF 100 Group Association; Air Marshal (Retd) Sir Stuart Atha KBE CB DSO; Tom Coke, The Earl of Leicester, Holkham Estate
Air Marshal (Retd) Sir Stuart Atha KBE CB DSO
Construction of the Memorial 
After years of fundraising and planning work is almost complete on the memorial site. The Stirling Sculpture, created by Andy Knighton Sculptures, has been erected and the Roll of Honour walls have been installed. For more information see the Memorial page