Construction of RAF North Creake commenced in 1942 and was completed in 1943.  It was built during the period that is considered by many as the most extensive period of British military engineering in history.  1942 -1943 saw the construction of hundreds of military airfields in order to accommodate the American air force.  RAF North Creake (operating as a RAF station and named after a village 4 miles away from it) had in excess of 3,000 people stationed on it, within and beyond the formerly quiet hamlet of Egmere in North Norfolk.  Flying heavy bombers in support of the bomber streams of Bomber Command, RAF North Creake became operational in 1944, flying their first operation in support of the D-Day landings on the night of the 5th June.
Two RAF squadrons were based here; the 199, and the 171, both part of Bomber Command's RAF 100 Group, flying initially Stirling bombers and latterly Halifax bombers,  their role was to carry out secret radio counter measures.
The airfield was built very quickly by mostly Irish labour; it was a colossal military/civil engineering undertaking – the runways/hard-standings alone cost more than £300,000 with the buildings adding a very similar amount to the sum total.
RAF 100 Group – Bomber Support arm of Bomber Command
Heavy bomber base for Stirling & Halifax aircraft
RAF 199 and 171 Squadrons
3 Runways
36 Hard standings
Domestic sites for 3,300 (2,900 men and 400 women)
Hangarage – 2 T2 style and 1 B1 Hangar (all still in situ)
Primarily carried out Radio Counter Measures – using Mandrel (electronic jamming)'Window' (aluminium foil strips – latterly known as Chaff)
Code Name: WORKER
Code: NO
OS Ref TF899385
1941

The site opens as a Decoy Airfield for RAF Docking.

October 1942

Class A airfield construction begins.

23 November 1943

Airfield becomes operational.

December 1943

RAF 100 Group is allocated to North Creake airfield.

May 1944

199 Squadron arrives from RAF Lakenheath, flying  Short Stirling IIIs.

5 June 1944

 The first mission from North Creake Airfield is carrying out Radio Counter Measures in support of D-Day.

16 June 1944

The Airfield suffers its first loss.  Aircraft N goes missing and is never found.  All crew are lost.

8 September 1944

171 Squadron is formed.  It initially flies Stirling IIIs, but these are subsequently replaced by Handley Page Halifax IIIs.

3 May 1945

During the final sortie two aircraft (both Halifax) collide just south of Kiel and are Bomber Command's last aircraft lost.

September 1945

RAF North Creake closes to operational flying.  The site is put into "Care and Maintenance" and is used for breaking De Havilland Mosquito aircraft.

September 1947

The site is closed and sold, mostly returning to farmland.
Use the slider to compare the aerial view of RAF North Creake in 1946 to how the area looks today.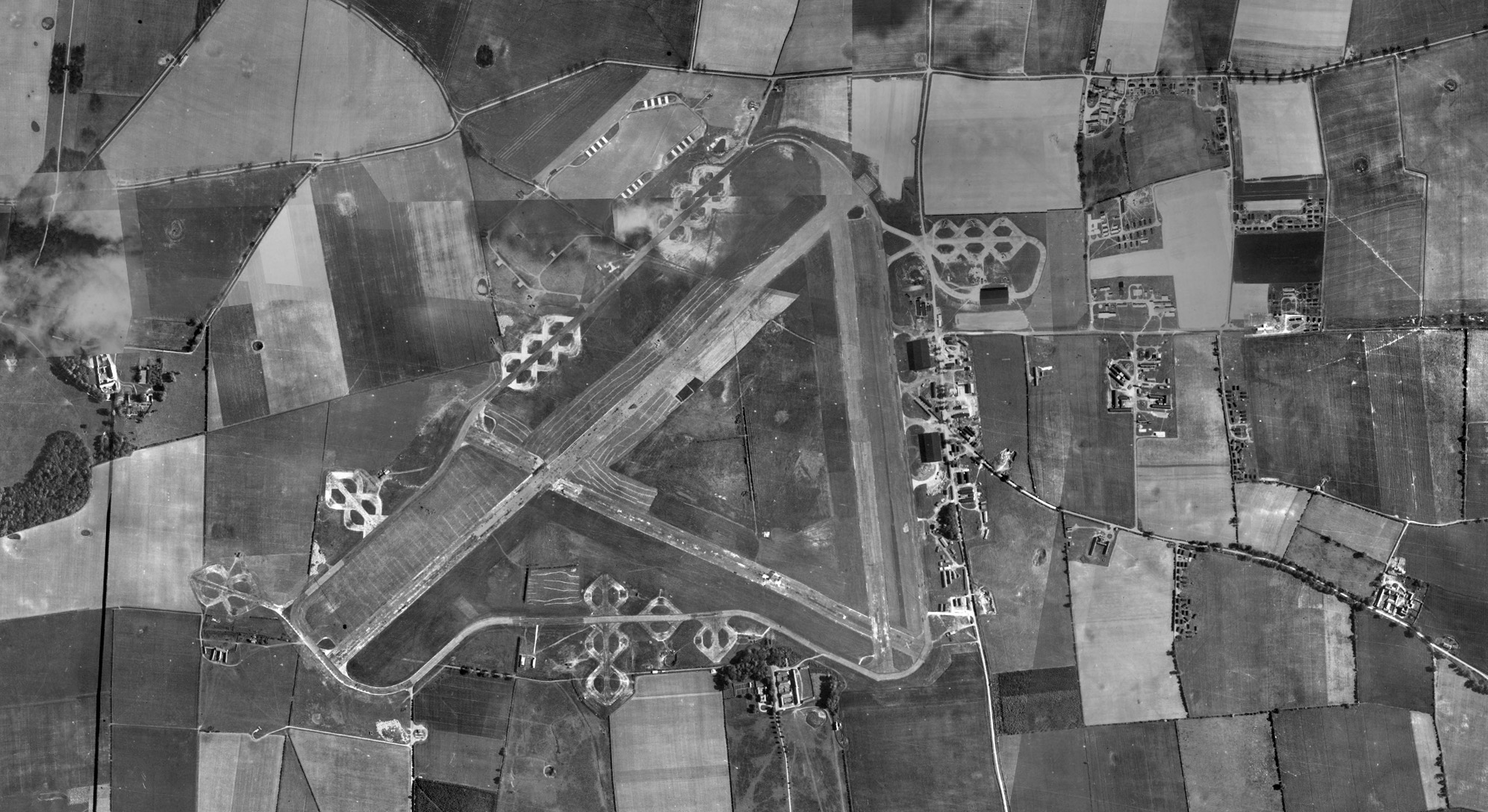 1946 images copyright Norfolk County Council – 2019 images copyright Google
Add your own history
Do you have pictures or memories of RAF North Creake you would like to share with us?