The aim is to complete this memorial in 2020 – when complete there will be a formal dedication ceremony and celebration. This is currently planned for Sunday 6th June 2021 (plans have been postponed due to Covid-19).
The memorial will have a sculpture of a Stirling aircraft in stainless steel skeletal form. The site will have the Roll of Honour, a time line and information boards about the airfield.
The sculptor  – Andy Knighton has completed the Stirling which will form the striking centrepiece of the memorial site.  It is an impressive piece being 5.7m long and will form a poignant reminder to all that pass that this was an airfield. He is also commissioned to create a curved stand so that the aircraft sits more than 3 metres off the ground in level flight but banking slightly. 
The memorial site is on Walsingham Estate land which has been designated for this use. It sits alongside the B1105 the 'Dry Road' and Edgar Road which was part of the technical site of the airfield when operational. The triangular paths represent the runways with the Stirling sculpture in the centre. The memorial walls with the Roll of Honour giving the names of all 73 men lost from RAF North Creake will be made from thick gauge mild steel with a bench next to it.
The project, including building this website needs an estimated £41,000. Several events have taken place to help with this and others are planned. If you want to know more please ask to go on the mailing list.
In conjunction with Beeston Brewery we have launched a fundraising beer – if you spot Drink to Remember while out and about in Norfolk please support the memorial by buying a pint (or two).  You can also take some home in bottles from The Real Ale Shop and Walsingham Farm Shop too.
Donations are also extremely welcome via our crowdfunding page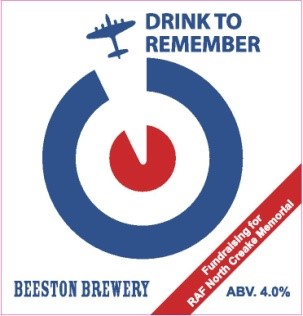 Project supported by:
Holkham Estate, Walsingham Estate, Walsingham Parish Council, North Norfolk Big Society Fund, Bomber Command Association, ABN, The Pickled Inns, Mr & Mrs Campbell, Paul Berry, Rhia Watson, Stephen Squires and many other individuals and small businesses on the airfield and beyond.